Globally Inspired Cuisine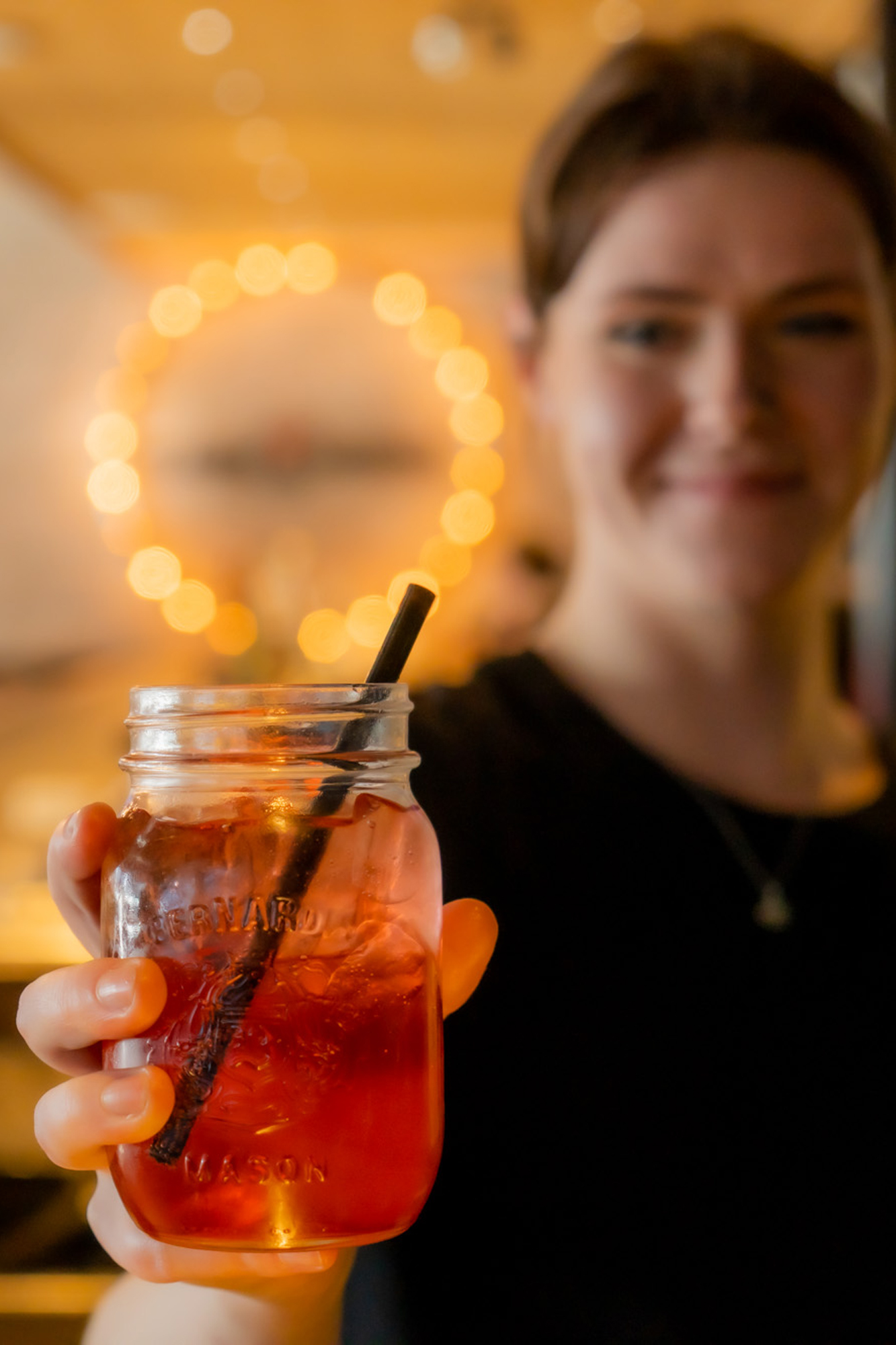 Our menu has been thoughtfully curated and designed to include dishes that are inspired by some of the most innovative and delicious food from around the world. When preparing your food, our team chooses the freshest ingredients to maximize flavour and quality so that your meal is the highlight of your experience at Flame & Barrel. Whether you join us for brunch, dinner or an appetizer and drink, you are sure to find something on our menu that suits your craving. With daily happy hour from 12-6 and nightly dinner features to highlight the best our menu has to offer, come in to discover your new favourite place to eat, relax and enjoy!
CHICKEN LETTUCE WRAP 17.95
Fried Chicken, peppers, onions, scallions, cashews, coleslaw, sweet & hot sauce
PERUVIAN BEEF SKEWERS 17.95 (GF)
Marinated Beef skewers with roasted garlic mayo
HOUSE RUBBED DRY RIBS 15.95
Bone in slow cooked ribs deep fried & tossed in home ground spice, homemade ranch, lemon
French baguette, fresh tomato, onion, basil, olive oil, grana padano, garlic, balsamic reduction
In house breaded wings tossed in your choice of Hot, Sriracha, Honey Garlic, Salt & Pepper, Lemon Pepper, BBQ or Sweet Chili
PAN SEARED SCALLOPS & SHRIMP 17.95 (GF)
Scallops 3, prawns 3, cherry tomato, white wine reduction, parsley
MARINATED OLIVES & CHEESE 14.95 (GF)
Assorted Olives, olive oil, parsley, grana padano, peppers, chili flakes
GARLIC BREAD STICKS 17.95
Cheesy garlic bread stick with homemade meat sauce
CRUNCHY FRIED PICKLES + CAULIFLOWER 15.95
Served with chipotle mayo
Fried flour dusted squid, atlantic salmon, shrimp, peppers, onion, jalapeno, garlic mayo
Fresh cut tortilla, mixed cheese, scallions, tomato, black olives, jalapeños, guacamole (add beef 6 / add chicken 6)
F & B CHARCUTERIE BOARD Full 65 / Half 34.95
Chefs selections of cheese & cured meats, candied nuts, marinated olives, green apple, bread, banana chips
ALL OUR BURGERS ARE HOMEMADE. SERVED ON  A BRIOCHE BUN WITH CHOICE OF FRIES, HOUSE  SALAD, OR SOUP OF THE DAY.
LTOP=Lettuce, Tomato, Onion, Pickles
Double patty, ham, LTOP, bacon, mushroom, Jack Daniel barbecue sauce, cheddar cheese
6 oz. patty, LTOP, ham, bacon, garlic aioli, cheddar cheese
JACK'S CHEDDAR & BACON 18.95
6 oz. patty, LTOP, bacon, cheddar cheese, Jack Daniel bbq sauce
FRIED CHICKEN BURGER 18.95
Chicken, Coleslaw, lettuce, Chipotle-ranch
ALL PASTAS ARE SERVED WITH GARLIC TOAST. MAKE IT BAKED $3.95 
CAJUN CHICKEN CARBONARA 23.95
Cajun Chicken, Spaghetti, Parmesan, bacon, creamy Carbonara sauce
Penne, garlic, olive, tomato, peppers, onion, parmesan * Add grilled chicken 5.95 or shrimp $5.95
Spaghetti, scallops, mussels & shrimp, alfredo sauce
THREE LAYERED LASAGNA 21.95
Pasta baked with layers of meat sauce, ricotta & mozzarella cheese
TWISTED FETTUCCINE ALFREDO 21.95
Fettuccini, honey-garlic chicken, Alfredo sauce
GLUTEN FREE PIZZA 12'' 24.95
HOUSE PIZZA S 17.95 / L 24.95
Pepperoni, Ham, Mushroom, Onions & Green Pepper
Ham, Pepperoni, Salami, Beef, Bacon, Italian Sausage
VEGETARIAN S 17.95 / L 24.95
Mushroom, Green Pepper, Tomatoes, Onion & Black Olives
BUTTER CHICKEN PIZZA L 24.95
Butter Chicken Sauce, Chicken, Green Pepper, Onion

Fior Di Latte, Prosciutto, Fresh Rocket Leaves, Grana Padano
ALL CREATIONS INCLUDE PIZZA SAUCE & MOZZARELLA
Ham, Mushroom, Pineapple, Pepperoni, Beef, Onion, Jalapeno Pepper, Green Pepper, Italian Sausage, Bacon, Tomato,Salami, Black Olives, Ground Beef, Banana Pepper, Shrimp, Feta Cheese, Chicken.
OUR PIZZA SIZES
SMALL 8" OR LARGE 12"
SERVED WITH FRIES, SALAD,OR SOUP OF THE DAY.
7 oz. AAA Striploin steak, sautéed mushroom, served open faced on a garlic ciabatta
PERUVIAN STEAK SANDWICH 19.95
Marinated striploin, lettuce, tomato, onion, peppers, garlic mayo, served on a ciabatta bun
Tortilla filled with mixed cheese, tomato, green onions, choice of taco chicken or beef, served with salsa & sour cream
Arugula, prosciutto, cream cheese, black berry jam, on
ciabatta bun
F&B HOUSE SALAD 14.95 (GF)
Mixed greens, cucumber, carrots, cranberries, candied walnut with Honey Lime Dressing
Fior-di-latte, tomato, basil garlic. Evoo, balsamic reduction
6 oz marinated NY steak mixed greens, balsamic vinaigrette, tomatoes, onion, feta cheese
PECAN & HERB CRUSTED SALMON SALAD 23.95 (GF)
Mixed greens, carrot, cranberry, apple, tomato, honey lime dressing
Crispy romaine hearts, bacon bits, shredded parmesan, creamy Caesar dressing, croutons
Crispy romaine, tomatoes, red onions, green peppers, Kalamata olives, cucumber, feta cheese, Greek dressing
ADD an Extra Chicken 5.95 or Shrimp Skewer 5.95
Ask your server for today's creation
IN HOUSE FRESH CUT AAA ALBERTA BEEF, ALL OUR MAINS ARE SERVED WITH ROSEMARY ROASTED POTATOES/FRIES/GARLIC MASHED POTATO AND VEGETABLES 
7 oz NEW YORK STRIPLOIN 29.95
10 oz NEW YORK STEAK 35.95
Sweet Potato Fries 2.95, Loaded Potato 2.95, Onion Rings 2.95
Lobster Tail market price
Add Mushrooms or Onion 3.50
Add Scallops (3) 6.95
Add Shrimp (4) 6.95
7 oz. Striploin with lobster tail, choice of potato & vegetables​
12 oz. Ribeye, Shrimps, vegetables, & choice of potato
MARINATED FLAME CATCH 45.95
7 oz filet mignon marinated with Peruvian spice, shrimp, vegetables, choice of potato
CHICKEN + SEAFOOD + OTHERS
Crunchy vegetables & choice of Chicken, Beef, or Shrimp tossed with house made Teriyaki sauce, served with rice or egg noodles
BLACKENED ATLANTIC SALMON 29.95
Vegetables, choice of potato, lemon butter sauce
BEER BATTER FISH AND CHIPS 20.95
Two pieces of cod, served with fries, coleslaw, tartar sauce, lemon
BUTTER CHICKEN 21.95 (GF)
Traditional East Indian Chicken curry infused with ground herbs, spices, bell peppers & onions served with rice & naan bread
NEW ZEALAND LAMB RACK 37.95
Roasted dijon herb crusted lamb, potato, vegetables
FLAM(E)INGO CHICKEN 32.95
Chicken supreme stuffed with Atlantic salmon mousse, drizzled with lemon caper butter