Were you looking for a restaurant best for steak? A restaurant serving tender, delicious, juicy, and not extremely salty. Afterward, Flame and Barrel is the ideal location for you. Here, you will get tender, juicy steak. We have grilled and seasoned the steaks to perfection.
Our steaks' enticing scent will captivate you. And you will fall in love with the flavor and the luscious tongue feel. Why don't you look at our restaurant first before deciding on one of the few steaks options we have? Indeed, the greatest location for steaks is Flame and Barrel.
We are a fresh new independent restaurant in the Windermere neighborhood. At this point, it is time for us to offer Edmonton our specialties. Flame and Barrel takes great pride in its international-inspired menu. Indeed, our staff members are extremely polite and highly professional. Undoubtedly, the foods we serve have a close connection to the moniker Flame and Barrel.
Along with, Flame alludes to our cooking techniques, while barrel alludes to the premium beverages we offer. Obviously, Flame and Barrel is best for steak.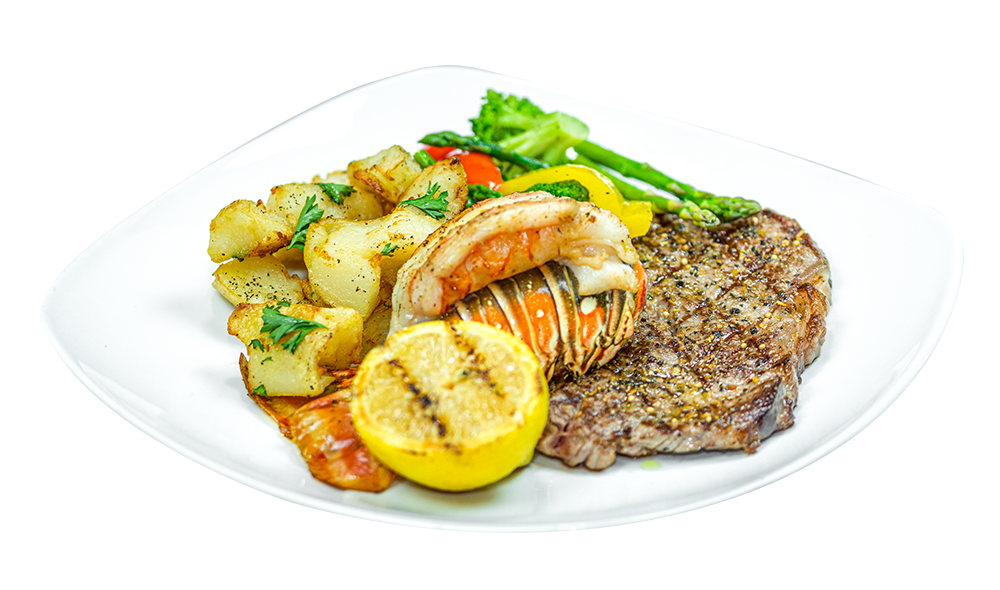 A steak, commonly known as a "beef steak," is a piece of meat. In addition, the meat gets sliced across the muscle fibers and may contain a bone. Also, either you can grill them or pan fry them. Preparing with some special sauce is also tasty. In fact, the word steak comes from the Middle English dialect word steik. Apart from this, cooking methods include roasting, grilling, and frying.
One of the most amazing things you will ever eat is a slab of a meat chopped into exact portions. Additionally, seasoning and searing over a ripping hot griddle or cast-iron skillet make it delicious.
Reasons you should eat Steak?
Fat:

A well-marbled piece has flavor and fat, which makes it tasty and beloved.

The Aroma:

We eat with our nose and eyes first, then only by our mouth. And it smells pretty delicious when a beautiful steak gets placed in front of you. We continue to gather up all of that aroma as we eat, generating a multi-layered sensory experience.

Deep Rich Flavor:

As the meat browns, the amino acids and carbs in it produce a variety of chemical compounds that give it that deep rich flavor and reddish brown color.

The texture:

It is difficult to describe the texture of a perfectly cooked steak in your mouth. A mild chew, softness, and juiciness all combine to be mouthful unlike any other.

It tastes good:

You will like the way steak tastes.
Rich in protein

Prevents iron deficiency

Rich in other micronutrients like B-vitamins, vitamin E and A, omega-3

Great in maintaining oral health because steak is rich in phosphorus
Calories 271
Total fat 19 g
Saturated fat 8 g
Cholesterol 78 mg
Sodium 58 mg
Magnesium 5%
Cobalamin 36%
Potassium 279 mg
Protein 25 g
Calcium 1 %
Iron 13%
Vitamin B 6 25%
Calcium 1 %
Vitamin D 1 %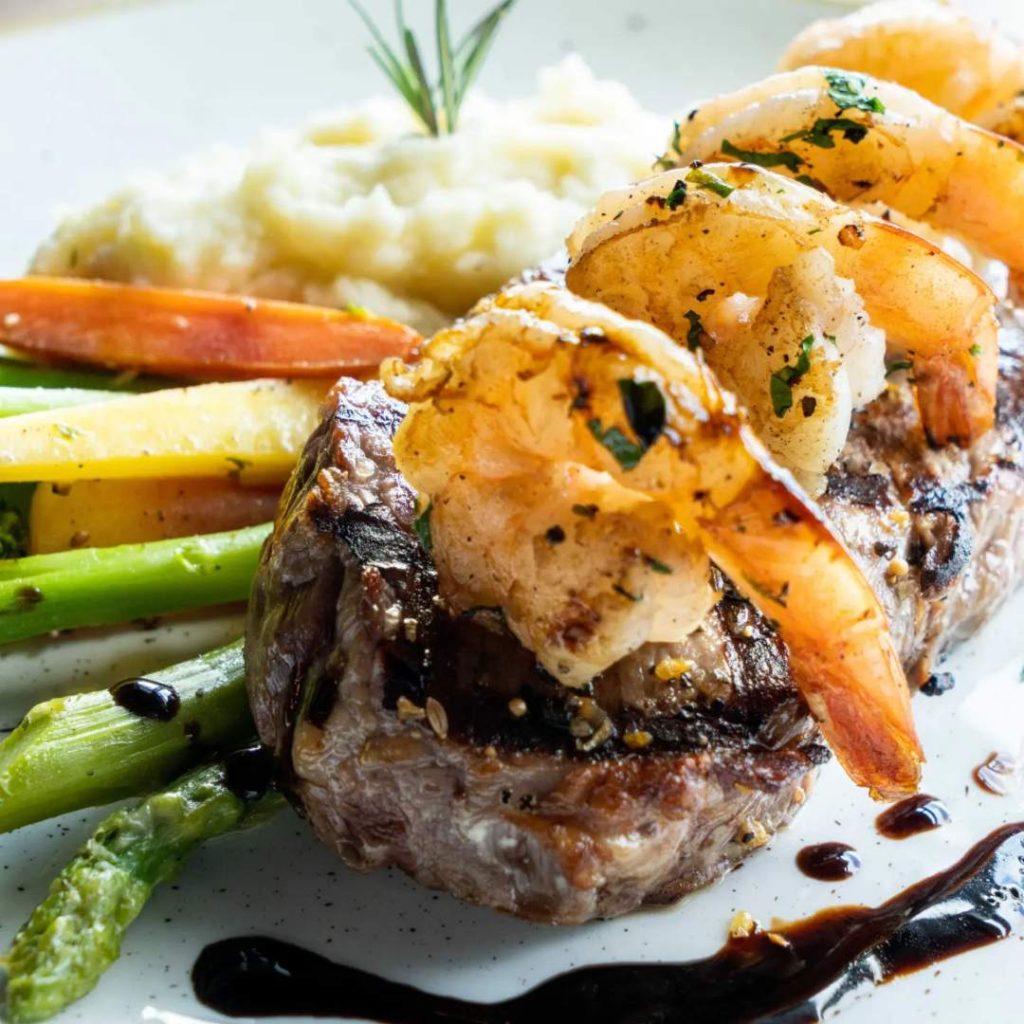 The tender steak gets cooked in garlic rosemary butter and the shrimp sizzles in that same flavored butter sauce. Also, add boiled potatoes to make it a meal. Roasted potatoes, garlic mashed potatoes and vegetables enhance the flavors. Our restaurant is the best place for this yummy dish.
New York Striploin:

This beef steak cut comes from the cow's short loin. Again, The softness comes from the meat's longissimus muscle. We can cut it into greater chunks because it is a large muscle. Evidently, the majority of meat vendors in Canada refer to this cut as striploin.

Rib eye steak:

From the rib segment, this is a boneless part of the rib. This has a good flavor and is tender. Due to the fat marbling it is excellent for quick and hot cooking. 

New York Steak:

Furthermore, a specialty dish is a short loin chop. The name New York steak refers to its connection to New York City.

Filet Mignon:

It is a meat cut from an animal's smaller end of the tenderloin or psoas major. In French, it primarily refers to pork tenderloin. The tenderloin runs parallel to the spine on both sides. And it typically gets chopped into two long, snake-like pieces. Typically, Filet mignon gets served as a circular cut from the tenderloin's thinner end.
It is frequently the leanest and most sensitive cut. Since, filet mignon often has a softer flavor than other beef cuts. Frequently, topping with sauce or wrapping in bacon gives the dish a great taste. The fact is that only a little portion of filet mignon gets extracted from each animal makes it the most expensive type of meat in general.
Steak N lobster tail:

Choice of potato and veggies, along with strip loin and lobster tail. On a platter of mashed potatoes, roasted veggies, and steak and lobster. Over the steak, spread the leftover garlic butter that is in the grill pan.

Surf n turf:

Surf and turf is a dish that combines red meat and seafood (turf). We provide ribeye (turf), scallops (surf), vegetables, and your choice of potato at Flames and Barrels. Although the ingredients are basic, the flavors are distinctive.

Marinated Flame catch:

In addition, this is a mouthwatering dish ideal for special occasions. Filet mignon with shrimp, veggies, your choice of potato, and bearnaise sauce. Because of marinating in béarnaise and Peruvian sauces, this soft, juicy beef takes on a distinctive flavor. Indeed, shrimp and potatoes enhance the flavor.
Best For steak enhancements
Lobster tail:

You can serve a meal that includes both steak and lobster tail along with almost any side dish because they go together so nicely. Moreover, it is to lobster what peanut butter is to jelly.

Mushrooms or onion:

These delectably simple sauteed mushrooms and onions are the ideal side dish for grilled steak.

Scallops:

We have got all the strategies for making the ultimate scallop and steak pairing.

Shrimp:

Shrimp and steak make a perfect surf and turf recipe.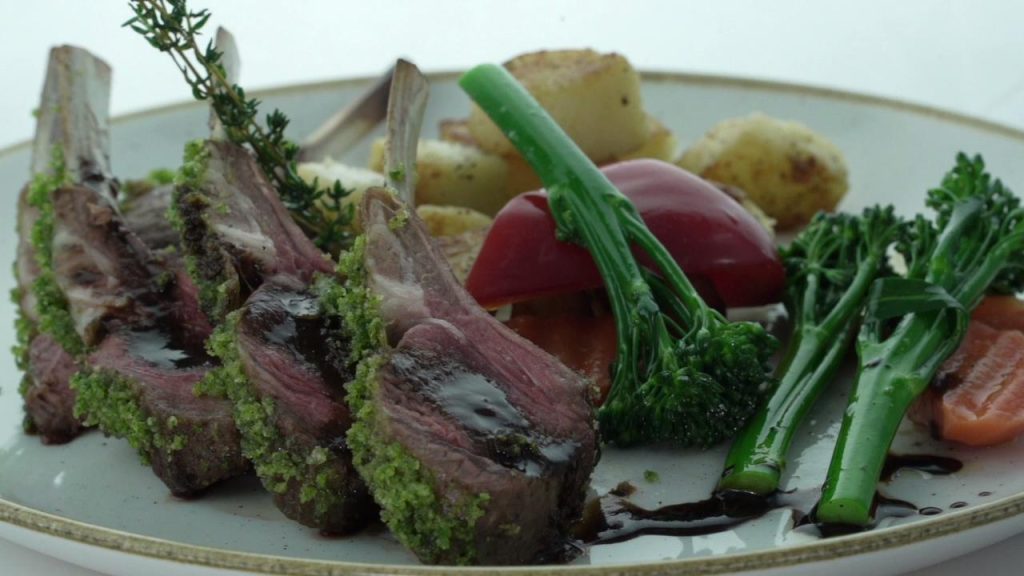 Steak sandwich:

On top of sliced garlic toast, a perfectly cooked AAA NY steak.

Peruvian steak sandwich or wrap:

Marinated striploin with lettuce, tomato, onion, peppers, and garlic mayo on a ciabatta sandwich or in a wrap.

Crispy Chicken sandwich:

Southern Fried Chicken, lettuce, tomato, onion, and chipotle mayo on a ciabatta bun 

Quesadilla:

Tortilla packed with mixed cheese, tomato, green onions, and your choice of taco chicken or beef, with salsa and sour cream on the side.

Prosciutto witches:

On a ciabatta bun, arugula, prosciutto, cream cheese, and black currant jam.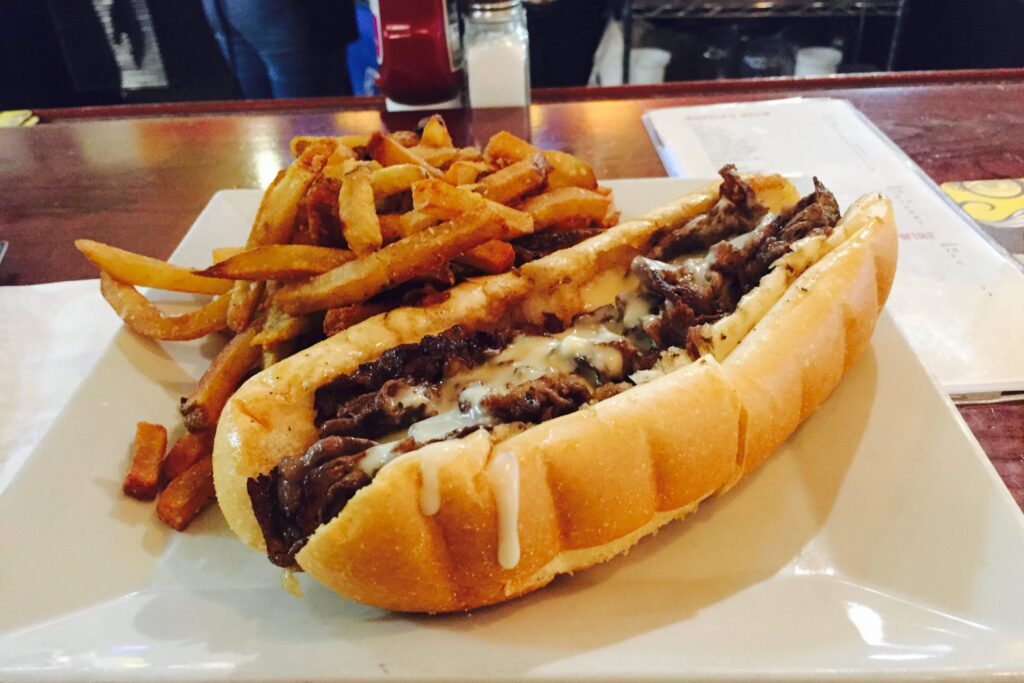 We began with the goal of offering outstanding food in a warm and welcoming environment. As a result, we have brought dishes that use sound and fragrant flavors. Besides, flame and barrel offers a variety of delectable dishes. Our crew has worked hard to ensure that you get food that satisfies your craving, whether it is for brunch, dinner, an appetizer, or a drink. In addition, daily happy hours from 12 to 6 p.m. will make your life more enjoyable. Moreover, we are best for steak.
Table bookings are available; please contact us. Happily we welcome you to your favorite eatery.