Looking for the greatest restaurant in Edmonton and gourmet practices? Well, Edmonton is open to new flavors and ideas. Allow us to take you on a tour of Edmonton's food culture and bistros. Definitely, your taste buds will be grateful. Every craving gets satisfied at one of Edmonton's eateries. Edmonton eateries include the city's hottest craft beer taprooms, hyper-local pubs, and indie bakeries.
Edmonton has eateries that satisfy any craving, whether it is for supper, brunch, appetizers, or beverages. Do you want the best pizza, coffee, or fancy dining? Finally, we have got you covered.
Edmonton is open to new flavors and ideas, allowing radical cooks to thrive. Looking for the chief restaurants and gourmet skills in Edmonton? Truly we can assist you in starting your food journey right here.
Foods of restaurant in Edmonton
On the whole, there are eateries that serve wonderful meals and have a pleasant time. Some restaurants only serve breakfast from 9 a.m. to 3 p.m. And they also serve cinnamon buns. Also, there are other cafes that provide pastries.
You also get the best of prairie food. Some of them get their products and supplies from farms and small-scale farmers all around Western Canada. If you want to go out for the night, there are bars that serve fanciful cocktails and a perfect hot spot.
Others go to places for anything from light and bright salads and grain bowls to drool-worthy burgers and typical Canadian comfort dishes. Then there are croissants, pies, and mini-meringues to quench your sweet craving.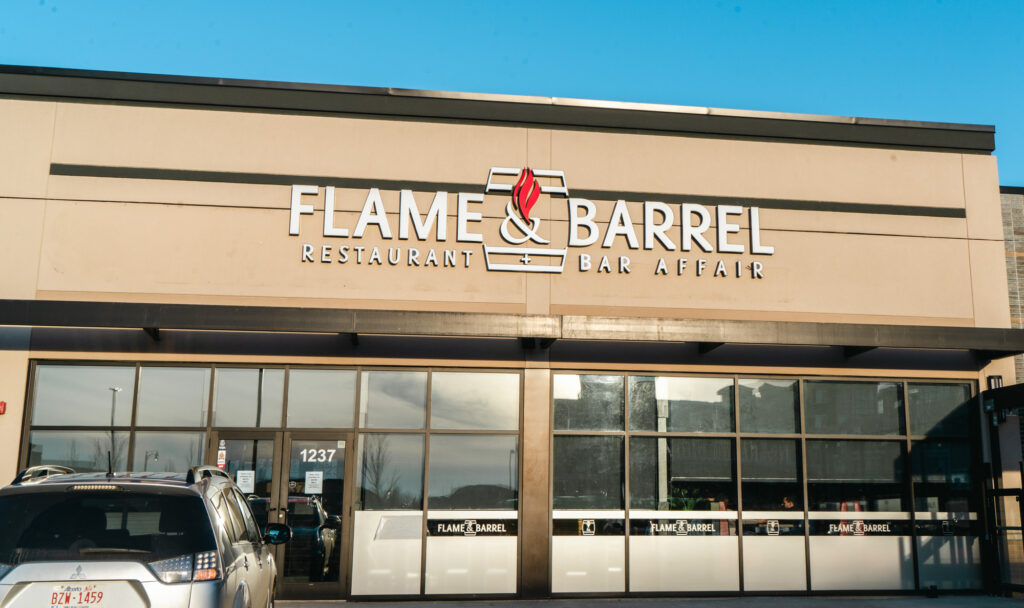 Also, there are macaroons. The cuisine features lovely fresh Alberta foods from local farmers that foil the drinks perfectly. In addition, local ingredients get used to make totally brilliant cuisine.
There are also Asian eateries that run as both a meal and a cocktail bar. Indeed, these eateries serve the best locally made beer in the city. If you can find these delights in the same spot, you will be happier. At Flame and Barrel, even on the face, impossible is doable.
The majority of the said foods and drinks are available at Flame Barrel. Hence, take a peek at this eatery and its menu.
Flame and Barrel is unquestionably the Best Restaurant in Edmonton
Windermere is the location of Flame and Barrel restaurant in Edmonton. Of course, you will find great food in a warm and friendly milieu. Our cuisine features farm fresh dishes that are both local and unique. Therefore, we offer a wide variety of tasty foods.
Whether you come for brunch, dinner, or an appetizer and drink, you will find something on our menu to satisfy your need. Daily happy hour from 12 to 6 p.m., as well as every night's dinner.
Our menu offers a wide range of foods to fulfill your appetite. In the same way, we carefully developed our menu with each foodie's likings in mind. From appetizers to cocktails, we have poured our minds and hearts into providing the best food in Edmonton.
When our cooks were preparing the appetizers, they decided to include a small dish to whet your appetite. As a result, they chose rare appetizers. Some of them are:
Chicken wings: Breaded chicken wings with hot Cajun Sriracha, honey garlic, salt and pepper, lemon pepper, peri-peri, BBQ, or sweet chili sauce.

Cheese and meat board: Chef's selections of cheese and cured meats, as well as candied nuts. Even olives soaked in olive oil, green apple, bread, and banana chips.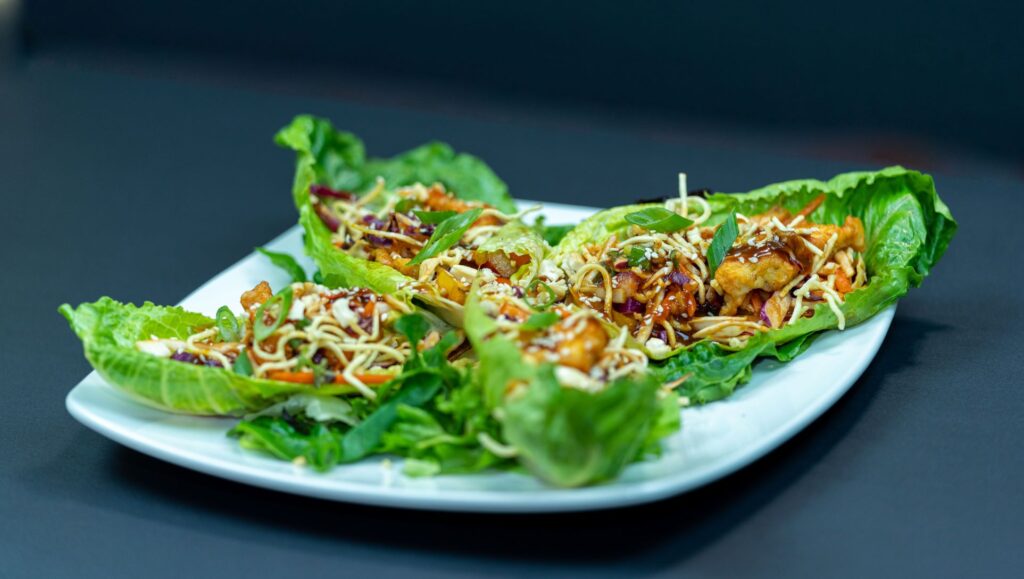 We make our own burgers. A patty of ground meat (typically beef) is put within a cut bread. After that, the burger is often topped with a variety of toppings, including lettuce, tomato, onion, and special sauces.
A brioche bun with your choice of fries, house salad, or daily soup. Specifically, two of our areas of expertise are:
Flame and Barrel: Double patty, ham, LTOP, bacon, mushroom, Jack Daniel's barbecue sauce, and cheddar cheese

The vegetable burger: garden patty, LTOP, garlic aioli, and cheddar cheese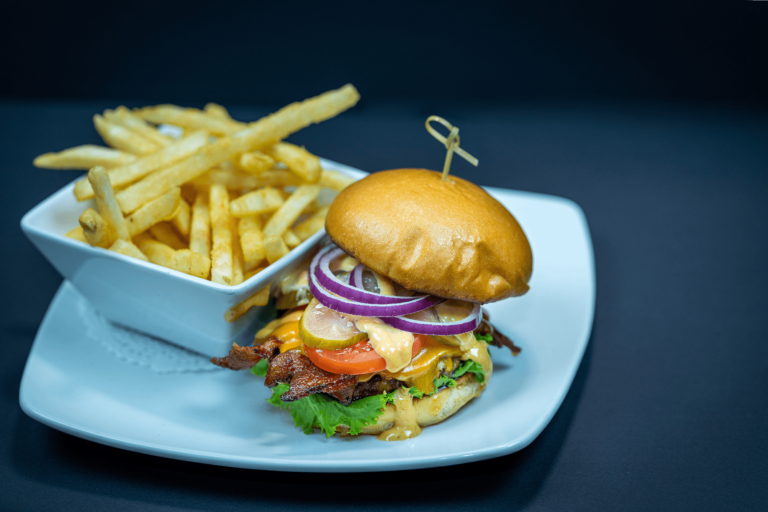 One of the most favored foods in the world is pasta. Since, the beginning of time, Italians have consumed pasta and mastered its preparation. Pasta can be served with a variety of sauces, including tomato sauce, pesto sauce, and cheese-based sauces. Spaghetti is the most widely consumed pasta and is frequently paired with tomato sauce.
Truly, pasta with garlic toast baked in the oven Following are a few specialties:
Seafood Alfredo: Spaghettis, scallops, mussels and shrimp mixed in Alfredo sauce.

Lasagna in three layers: Pasta baked with layers of meat sauce, ricotta, and mozzarella cheese.
In United States, pizza is the most popular food. Pizza is so popular that more than half of all Americans eat it at least once a month. Raffaele Esposito created the contemporary pizza and opened the first pizzeria in Naples, Italy.
Traditional and non-traditional toppings are the two main categories into which pizza toppings are often separated. While non-traditional toppings might include anything from bacon to pineapple to black olives, conventional toppings include tomato sauce, cheese, and pepperoni.
Besides, we consider your health when making these pizzas, which is why we offer specialized pizza.
Gluten-free pizza with your choice of four toppings.

Green pepper, onions, mushrooms, and ham on pizza

Vegetarian ingredients include black olives, mushrooms, green peppers, tomatoes, and onions.
Of course, you can bake your own pizza. There are plenty of ingredients available, including ham, mushroom, pineapple, salami, ground beef, and many others.
It's famous for its delectable toppings and flavorful sauce. Over the years, the pizza market has expanded tremendously and is still growing.
Further, pizza sauce and mozzarella are also there in all creations. Additional toppings, cheese, and dipping sauce will give.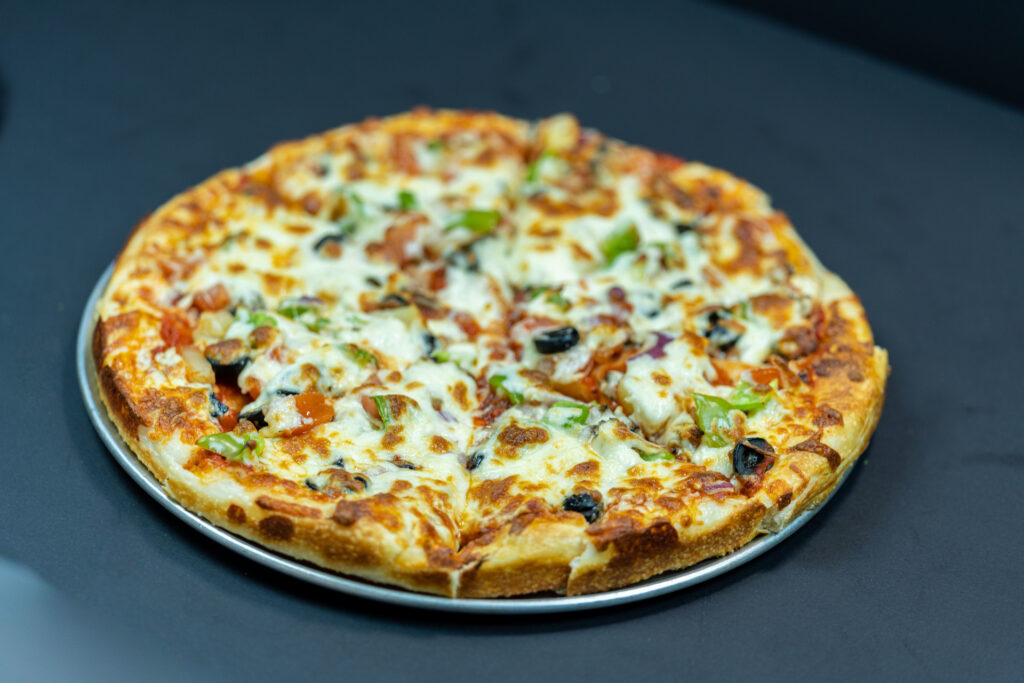 Restaurant in Edmonton with the best Salads & Soups
In fact, this is your healthy section. Salads and soups boost your immune system. Here are a few of our luscious dishes:
Flame and Barrel House Salad: Salad with mixed greens, cucumber, carrots, cranberries, candied walnuts, and honey lime dressing.

Greek salad: romaine lettuce, tomatoes, red onions, green peppers, Kalamata olives, cucumber, feta cheese, Greek dressing.

Caramelized onion, red wine reduction, and beef broth baked with cheese croutons
Above all, our steaks comprise fresh cut Alberta beef, Rosemary roasted potatoes, fries, garlic mashed potatoes, and vegetables. Lobster tail, mushrooms or onion, scallops, and shrimp are available as add-ons. There are several types of steaks that are really tasty. 
Take the following as an example:
Marinated Flame Catch: is a wonderful steak, made with filet mignon marinated with Peruvian spice, shrimp, veggies, your choice of potato, and béarnaise sauce.
Flame and Barrel's sandwiches pair perfectly with fries, salad, or the day's soup. For instance,
Peruvian steak sandwich or wrap: A ciabatta bun or a wrap, which is served with marinated striploin, lettuce, tomato, onion, peppers, and garlic mayo.

Prosciutto witches: Arugula, prosciutto, cream cheese, and black currant jam on ciabatta bun.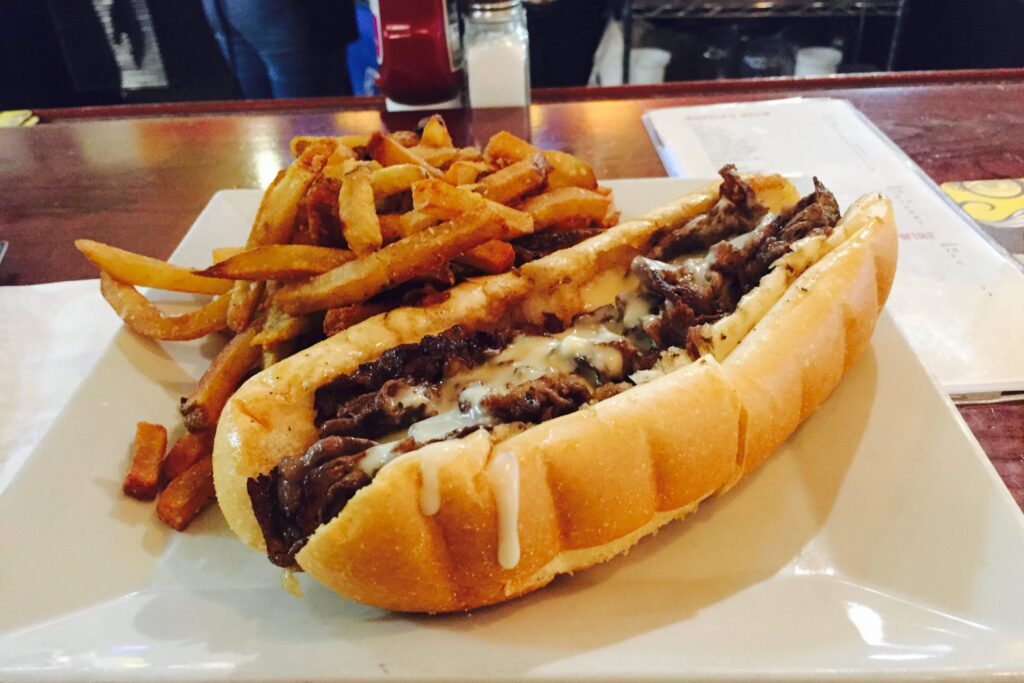 Chicken, Seafood and Others
Moreover, our chefs drew inspiration for the meals in this section of the menu from all over the world.
Butter Chicken: A traditional East Indians chicken curry with ground herbs, spices, bell peppers, and onions served with rice and naan bread.

New Zealand Lamb: Evidently, grilled mint crusted lamb with rosemary potatoes and vegetables.
Flame and Barrel: BAR Menu
Cocktails:

In fact, an alcoholic beverage consisting of liquor or spirits and other ingredients such as fruit juice or cream.

Spirits:

Alcoholic fermentation of fruits, vegetables, grains, and other ingredients to make an alcoholic drink.

Beer and coolers:

Well, An alcoholic beverage in which yeast fermented malt is the principal ingredient.

Specialty coffees:

A variety of tasty coffees and mocktails.

White wine:

Fermented wine without skin contact.

Red wine:

Again, fermented Wine from dark grape varietals.

Rose wine:

A fermented wine that has skin contact and gets its color from grape skins.

Bubbles:

Indeed, a carbonated soft drink with dissolved carbon dioxide.

Cognac:

A high-quality brandy produced in Cognac.

Shots:

Clearly, a small serving of spirits or mixed drink.

Aperitifs:

An alcoholic drink as an appetizer.

Liqueurs:

As a matter of fact this is a strong sweet alcoholic spirit to drink after meal.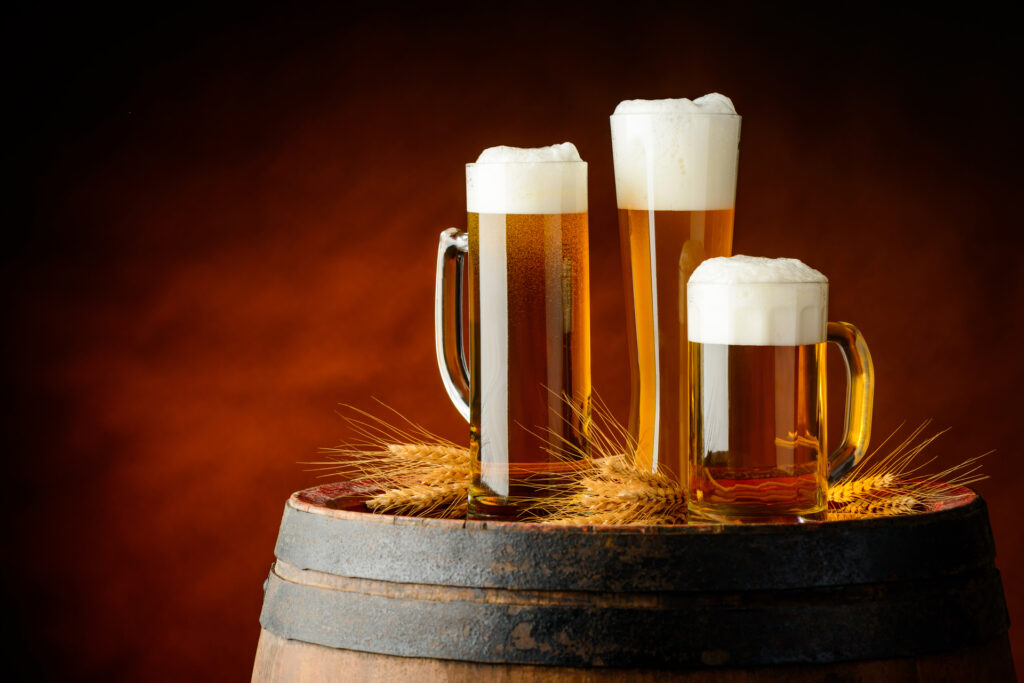 Every day is special at Flame and Barrel. Wednesday wing night 50% off at our restaurants. Highball and Margarita Tuesday is a five-dollar day. Why don't you gather the gang and throw a booze party? A tasty beverage and a fantastic night out with your closest friends at Flame and Barrel. It is patio time and enjoy happy hour with a cocktail. Moreover, Wings Wine is half price on Wednesdays.
Furthermore, Butcher's block on Thursday and Friday and every day, eat whatever you want. Lunch that includes a salad is always a good choice. Well, Flame and Barrel is having a wing night with a variety of varieties to select from. An intriguing new restaurant and bar concept serving world cuisine was influenced by local and seasonal ingredients.
Probably you understood what we meant when we claimed we have everything you need to make your life more enjoyable. That is why we are one of the best restaurant in Edmonton. Please come and enjoy Edmonton's and the world's flavors.
Flame and Barrel is eagerly awaiting your arrival to excite you with its tantalizing meals. In short, we guarantee that your visit to our restaurant will be one to remember.